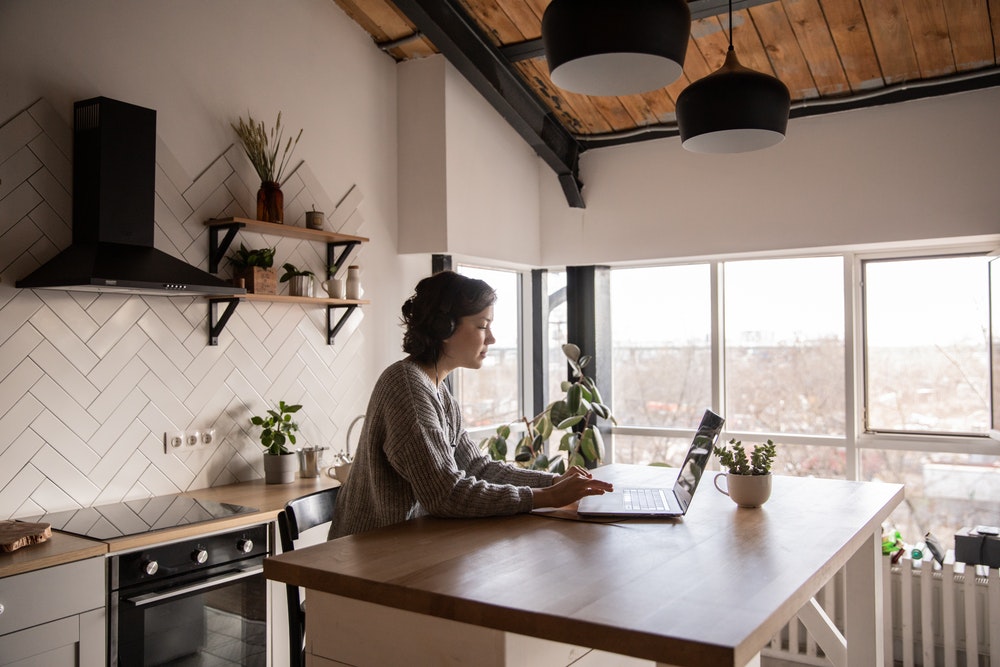 Life in the office was rough, wasn't it? Sitting all day, grab-and-go unhealthy breakfasts, and a lack of time for exercising and cooking was the norm. Now, this may not have been the story for everyone who worked in an office.
However, according to Business Insider, 86% of employees sit all day, and long commutes contribute to poor sleep, high cholesterol, and increased depression. There are a lot of health risks that were associated with making that trek into the office, however remote work does not guarantee health.
Those 86 percent of workers who sit all day are likely not only those within the office. Also, those who work remotely and are self-employed may be more prone to anxiety due to income insecurity.
If you work for a remote work company, you are more likely to exercise, however you are also more likely to experience isolation which can harm mental health. So, how do you ensure you are taking care of yourself while working remotely? Here are my three tips.
Get Your Exercise Routine Together
While you are working from home, a lot can impact your schedule and the time you have to take care of yourself. Do you have to take kids to school? Is the afternoon usually when you run errands? What is your prime time for working? Take these into account when deciding when the best time is to exercise, so you can stay healthy while working remotely.
Exercise will give you more energy, reduce stress, and increase productivity. While others may have their opinion about when is the best time to get physical, you know your time and body better than anyone else. So, look at how you can get in a decent workout.
Also, exercising does not mean that you have to go to the gym or have an intense hour-long sweat session. It can be something as low-key as walking your dog, trying out a 15 minute YouTube chair workout (from personal experience, these things really get your heart rate up), jogging on a treadmill, or doing 30 sec increments of stairs over 15 to 20 minutes.
As long as your body is moving, that's all that matters. You don't need a crazy amount of equipment to get started, so use what is around you.
Prepare Meals in Advance
Now, this has happened to me personally. I have been working like crazy on a project and lost track of time. By the time I take a look at the clock it is well past noon – what a great employee I am! I haven't had breakfast or lunch, so I order an unhealthy and expensive meal on Uber Eats. Uber Eats is incredibly convenient, and I am grateful for their existence.
However, it was becoming a daily trend. I realised that I had to get better control of my eating and prepare my food in advance. It is understandable to balk at "meal prep," I did too at first. However, I did it in a way that worked for me.
I typically pick two recipes for the week that I can cook on Saturday or Sunday and then again on Tuesday or Wednesday. I shop for these recipes and cook enough, so these meals last for at least two to three days. This is typically for dinner (and possibly leftovers for lunch). I then grab ingredients that I can quickly put together for a cold lunch like salads or sandwiches.
Breakfast typically consists of a fruit and veggie smoothie or cereal. There is no packaging of meals into containers or planning out portions to the letter. There are tons of websites with simple, and healthy meals (this website has some of one of my favourites) you can implement in your cooking routine.
So take some time on Saturday or Sunday to plan out what you will be cooking for the week and purchase ingredients to make easy meals throughout the week. This planning will definitely help you stay healthy while working remotely.
Take Care of Your Mind
As stated in some of the articles mentioned above, keeping your mind healthy and calm can be challenging while working remotely. You are left with your own thoughts, and might not have the opportunity to spend time with a lot of other people. So, first, make sure your mental health is a priority.
If you are feeling isolated and know that certain days are worse than others, make a point to get around some other individuals throughout the month. Check out Meetup.com for lunch and brunch meetings in your area, or call up an old friend and colleague to meet up for a quick bite; if you do not really need any interaction however want to be around others check out a local coffee shop or library.
If you are experiencing severe issues of depression, anxiety, or another type of mental health issue, do not be afraid to seek the help of a professional. Working remotely has a lot of perks, however the isolation and the stress of handling everything on your own can be a lot to handle, and that is more than understandable.
Do not be ashamed to look for some extra help. If you do not feel comfortable meeting a mental health professional in person, then find out virtual therapy options (especially if you are a digital nomad). Know that your mental health needs to come first, and you are a champion for realising that.
Also, do not diminish the impact of soothing music, aromatherapy, and exemplary organisation tactics in also taking down those stress levels.
In Summary
We have a tendency to put our health on the back burner when we get too busy. However, we cannot be our best when we do not take care of ourselves. This extends to the mental as well as the physical.
Get in some activity, eat the right foods, and take time to release the stress of your mind. You will thank yourself for stay healthy while working remotely.
Photo by Ekaterina Bolovtsova from Pexels