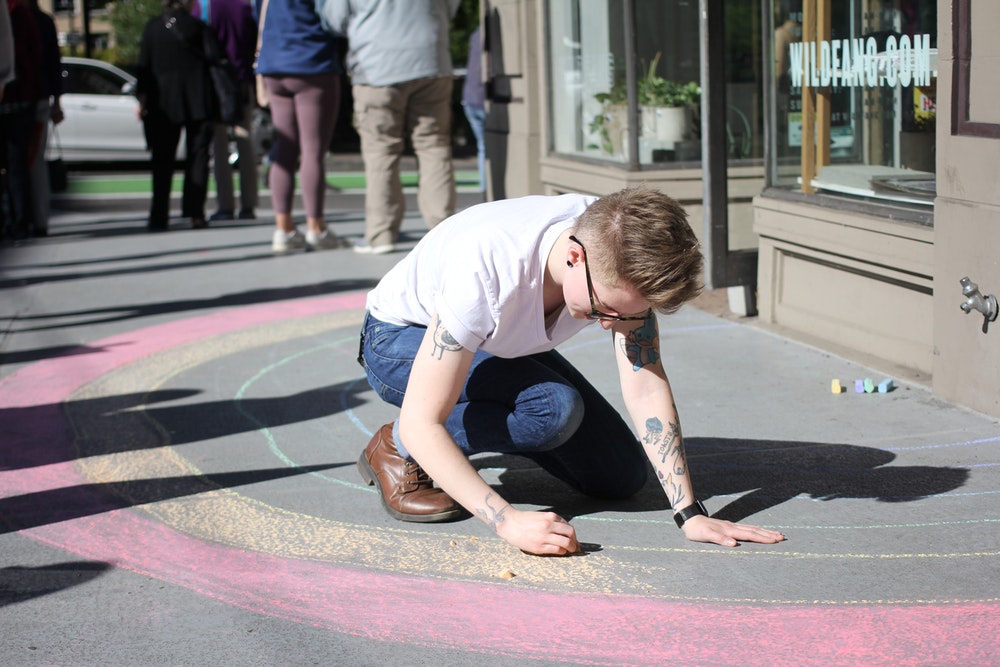 Trying to market your small business in Australia or anywhere in the world actually, is getting harder and harder to do. It's tough to break through the constant noise to consumers and get attention. Here's nine clever methods I feel that will potentially help you do just that – get attention.
Create chalk art on footpaths
A fun way to engage people to attract more attention toward your physical mom-and-pop-type shop in the summer is to use chalk. That's right! Chalk! Draw a canvas on the footpath in front of your store with a big, bold, beautiful message to encourage walk-by traffic to "write something beautiful." People are keen on being part of something positive, and chalking up footpath is an easy action for people to take.
The byproduct of this tactic is that people will spend time thinking about who is behind the tactic, which gives your brand more attention in the community in the summertime. It will also draw a crowd, which is great for business.
Get inspiration from what others are doing on social media
If foot traffic is what drives traditional guerrilla marketing, we shouldn't be surprised that it would also thrive in social media. From the really popular Wendy's Twitter feed to those fun Snapchat Geofilters, it's become undeniable that social media has provided a larger platform for guerrilla marketing. Check out this article for nine examples that can inspire you to make your own.
Always tie your guerrilla marketing to a bigger campaign
Our approach is to always tie it to a bigger campaign, like a social media contest, so we can not only get the exposure that guerrilla marketing creates however also gets that traffic engaging with you online. Stop people in their tracks with the guerrilla approach however then capitalise on that and make them take action!
Hack your next conference or big event
Before your next trade show, find out who are the speakers and what are the conference hashtags, and start sharing speakers' and attending influencers' content using the hashtag. This way, you show up in the conference feed before the conference, and you can continue doing so during the conference and shortly after.
If you really want to market your small business in Australia, use a social listening tool like Brand 24 or Hootsuite to monitor conversations about the conference and joining by adding value, retweeting content and/or otherwise engaging.
Find existing customers who share similar content
My favourite technique is to identify the content that is currently ranking on the first page of search engines for the target keyword of your post, identifying the people who were most engaged with that content and sharing your article directly with them.
I call this the Twitter Leapfrog Method and have seen this drive incredible results for both our internal blogging efforts and client blogging efforts.
The method starts with identifying the top-performing articles that relate to your blog article or video, finding the Twitter accounts that shared this content previously and sending out targeted messages to each of these Twitter accounts that encourage them to check out your article as well.
This method has served as the primary catalyst for driving social shares and backlinks to both mine and my clients' articles and has led countless articles to rank higher in search engines than popular publications like Forbes and Entrepreneur for the search terms that relate to our business.
Ask customers to leave reviews outright
If you want to market your small business in Australia, you need to ask your existing customers for help. Gone are the days when companies just hoped their satisfied customers would leave reviews for potential customers to see. Come right out and request customer reviews (professionally, of course) with the review management software Podium.
Podium is an online tool that lets you send automated review invitations, respond to those reviews, and monitor insights, messages, web chats, and reviews from 20+ review sites — all in one dashboard.
Try to run a custom audience ad on Facebook
Small businesses usually send a lot of cold emails. This strategy may work if the target audience is selected properly but, more often than not, these businesses find their emails being marked 'spam.' The engagement level is also very low. The problem is that the receivers don't recognise the small business as a brand. Before sending emails, you can run a custom audience advertisement on social media or Google Display Network. This will subconsciously create an awareness about your business, and you'll notice better engagement and reply rates.
For the best return on investment, try to run ads based on impressions as your goal is only to create awareness.
Livestream your next event on Facebook
I think Facebook Live has made live streaming events one of the most affordable and effective ways to market your small business in Australia and across the globe. It gives business owners the opportunity to schedule cool events, such as the unveiling of a new product or service or even something as simple as a Q&A session where consumers can find out more info about your company and learn more about your culture.
You can also do special "Meet the Team" live events where you introduce your employees in a relaxed environment and give a peek inside your company's operations. These social media video and live events are a fantastic way to engage your audience and connect with them on a personal level that makes them feel more invested in your brand.
Add a call to action to your email signature
This is a simple, effective technique for getting people interested in your offer. Be clever and creative with phrasing — you want to grab their attention with a concise tagline that hints at the problem your offer solves or how it will change the viewer's life.
The next part of the equation is the landing page for your call-to-action (CTA) link. It should clearly/concisely explain the offer, what it will do or the problem it solves and, finally, what the user needs to do next (buy, order, sign up and so on).
Market your small business in Australia
There you have it. Nine very clever ways to market your small business in Australia. Which ones have inspired you? Maybe with a few small tweaks, you could have your next killer idea.